Dr. Jabeen Jussa, a North Vancouver Chiropractor, completed her chiropractic education at Western States Chiropractic College located in Portland, Oregon. Prior to that, she earned a Bachelor of Science degree in Biopsychology from the University of British Columbia in Vancouver, BC. With a practice spanning over two decades, Dr. Jussa has been providing care to patients residing in North Vancouver, West Vancouver, Burnaby, and other areas within the Greater Vancouver region. Her extensive clinical experience has equipped her to effectively treat conditions such as neck and low back pain, sciatica, and headaches.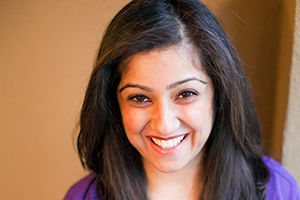 Dr. Jussa, North Vancouver Chiropractor, has a strong belief in wellness care and values the importance of spinal and joint care in order to live a healthy and functional life. She will provide each of her patients with a wide variety of chiropractic services that will help keep you moving and ease away muscle tension and pain all aimed to support you to enjoy your daily activities.
Techniques
Through her clinical experience and evidence based practice, North Vancouver Chiropractor, Dr. Jussa,  will assist patients with various ailments including headaches, jaw discomfort due to clenching and grinding, strain injuries due to poor posture and arthritis related pain. She is also certified in the Webster technique which focuses on the pelvic positioning for pregnant women. Dr. Jussa utilizes Diversified (hands-on), Activator (instrument technique), Shockwave Therapy (SWT) and Drop Table as well as Active Release Technique and Kinesio-taping.
She has an integrative approach and incorporates active rehabilitation, exercises, stretches and postural correction with each patient. She is committed to helping individuals maximize their health potential by educating and empowering every person who enters her clinic.  At her North Vancouver Chiropractic clinic,  Dr. Jussa takes times to understand your health goals as well as assess your entire body movement patterns in order to find the root cause of your pain to help you remain active, improve your golf game or reduce pain/discomfort while working.
For more information, visit Techniques  
Community Service
One of her most life changing experiences was when Dr. Jabeen volunteered her chiropractic services in the tropical paradise island of Zanzibar on the Indian Ocean for three months in 2004.    In 2009, she served as the Chair for the Women's Portfolio on the Ismaili Council for British Columbia whose aim is to support girls and women to be financially literate, empowered, healthy, educated, and meaningful contributors to our society.  Dr. Jabeen continues to serve as a mentor to future Chiropractors. Currently, Dr. Jabeen is the First Vice Chair on the BC Chiropractic Association Board of Directors.
When her time is not committed at her North Vancouver Chiropractic clinic or her many community service contributions, Dr. Jabeen enjoys hot yoga, spinning and Pilates. Travelling and learning about new cultures is one of her greatest passions.
To book your appointment today, please visit: Book with Dr. Jabeen